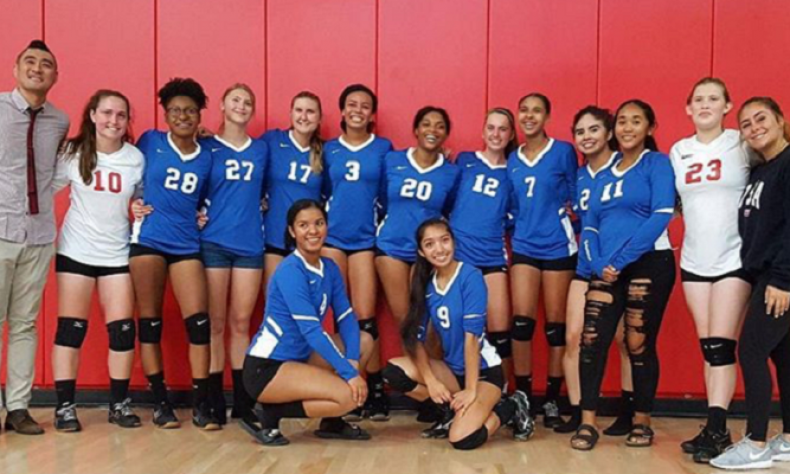 By Brian Reed-Baiotto, Sports Editor Pasadena Sports Now

It wouldn't be too difficult to improve in some way from a 3-15 season a year ago.

But added to the unknown of a failing program was the hiring of a new coach and the new system that comes with that.
Sang Lee, though, came in over the summer and has already made big changes that are paying off on the court and in regards to his player's psyche.
Lee, 35, was hired as an English teacher and had a background at a charter school in Van Nuys coaching volleyball, so with the job open, it was a perfect fit for both Lee and Marshall High School.
Lee would be the first to tell you that he was lucky to inherit senior leaders Eileen Lopez (setter) and outside hitters Risejah Velasco and Samantha James.
Unlike Westridge and La Salle and Flintridge Sacred Heart, Marshall doesn't have a roster full of year-round or club volleyball players.
His first major change was the environment.
In no way is he criticizing past coaches, but Lee's doctrine is more about the girls having fun and celebrating each other's efforts and hard work.
In the past, Marshall was in a regimented, and strictly disciplined type atmosphere and Lee wants them to enjoy the fruits of their labor.
That doesn't mean he and they don't care about winning.
But the emphasis on game days, after all the hard work at the practices is to play well and appreciate how hard each of their teammates are working for a collective goal.
After just three wins last year, the Eagles are 2-0 in 2017, and they continue to improve weekly.

Lopez is so crucial to the success of James and Velasco and Lee said all three are examples he wants his underclassmen to take notice of.
"When I first got there, they weren't training and looked rusty,' Lee said. They didn't have many club volleyball players, just athletes. Volleyball isn't their primary sport."
The first steps forward was competing at the Burbank Summer League.
"We got killed left and right, but we didn't have all our players over the summer and we didn't have the commitment right away. We got some great experience though," Lee said.
Lopez and outside hitters Samantha James and Risejah Velasco will not only determine the success of this new program, but they also will set the tone for the future of Lee's program.
"It's a big deal to me to build this program, and I need role models like these girls. Without these girls, Marshall volleyball would be headed in the wrong direction. It makes it easy for me to have girls as dedicated and enthusiastic about the game," he said.
The culture needed to be changed.
"It was very demanding last year, and I wanted to bring fun and celebration. It's important to encourage girls beyond their mistakes and to have fun," Lee said.
Another quick and important change or tweak, according to Lee, was to make some position changes that made for a better fit at Marshall.
He also addressed a 'mental block,' where when things went bad last year, they just snowballed.

Lee said that volleyball is a game of mistakes and it's how you respond to the mistakes that separate a good team from a mediocre team.
Serving is an area that Lee needs to address most.
The Eagles have had far too many service errors in their first two matches (sweeps over Muir and Blair) and Lee knows his team isn't good enough to give away free points and expect to have a chance to win.

His most glaring positive so far?
"Our chemistry is pretty good right now. The girls like each other and we communicate pretty well on the court. Communication in volleyball is more important than any other sport , because volleyball is a sport in which you have so much happening in such a small amount of space without collision," Lee said.
Alongside his big three (Velasco, James, Lopez) Marshall expects key roles for newcomers Lyndsey Bailey (middle blocker) and opposite hitter Lilah Fontenot.
" Lyndsey brings size and quickness to the middle, moves up from JV and hopes to contribute immediately. Lilah switches positions from middle to opposite, returning varsity, hopes to grow throughout the season," Lee said.

His other key acquisition is assistant coach Daniela Gonzalez.
"Daniela is a NCAA 2015 national champion libero from Cal Lutheran, former standout at Burroughs High (Burbank), and brings knowledge to young program," he said.

Marshall plays Holy Family on Tuesday and then spends Thursday and Saturday at the Azusa Tournament.
Lee's outlook on the season:
"We only had three wins last season. I'm a new coach to Marshall and I bring enthusiasm. We hope to build from last year's team. We have our entire starting unit back. We gained experience at Burbank High's summer tournament. We are trying to turn the corner on an unsuccessful season last year. Adding Coach Daniela Gonzalez will help us, as she is accustomed to winning. We are trying to build a positive culture to our program, but we have a long way to go in terms of pure volleyball skills: passing, serving, hitting. We are hoping we can be competitive although the odds are stacked against us."